2018 NBA Mock Draft
The college basketball season is already underway and the true stars are beginning to stand out. Some NBA teams have given up hope already and started to tank in hope of landing these young talents.
Whether they are taking over in the NCAA or dominating overseas, they are coming. This years draft class is loaded with talent. Many young players look to become the future of the NBA. If the NBA season ended today, this is what the NBA Draft would look like.
Many factors were taken into consideration for this mock draft. The teams are ranked from worst record to best record and how likely they are to tank. Some teams that are hot right now will lose their stride and fall into the lottery. The players are ranked on talent, but some players are drafted by the team that is the best fit for them.
Michael Porter Jr.
Disclaimer: Michael Porter Jr. is not on this list. He was supposed to be out for the season and now they are saying he could make a late season return. It is unlikely that Porter will return this year so able to showcase his true skills over a full season of college basketball. It would be better off for him to stay a second year at Missouri to help his draft stock, but it doesn't seem that he is too worried about his draft stock. Also, he would consider spending another year at Missouri
"Everybody thinks I'm not serious when I say that, but I actually might spend more than one year in college."
Porter said his main goal is to "leave a legacy" at Mizzou, and that he would consider returning for his sophomore year if the team struggles. Missouri hasn't made the NCAA tournament in five years.
1. Chicago Bulls- Marvin Bagley III, PF/C, Duke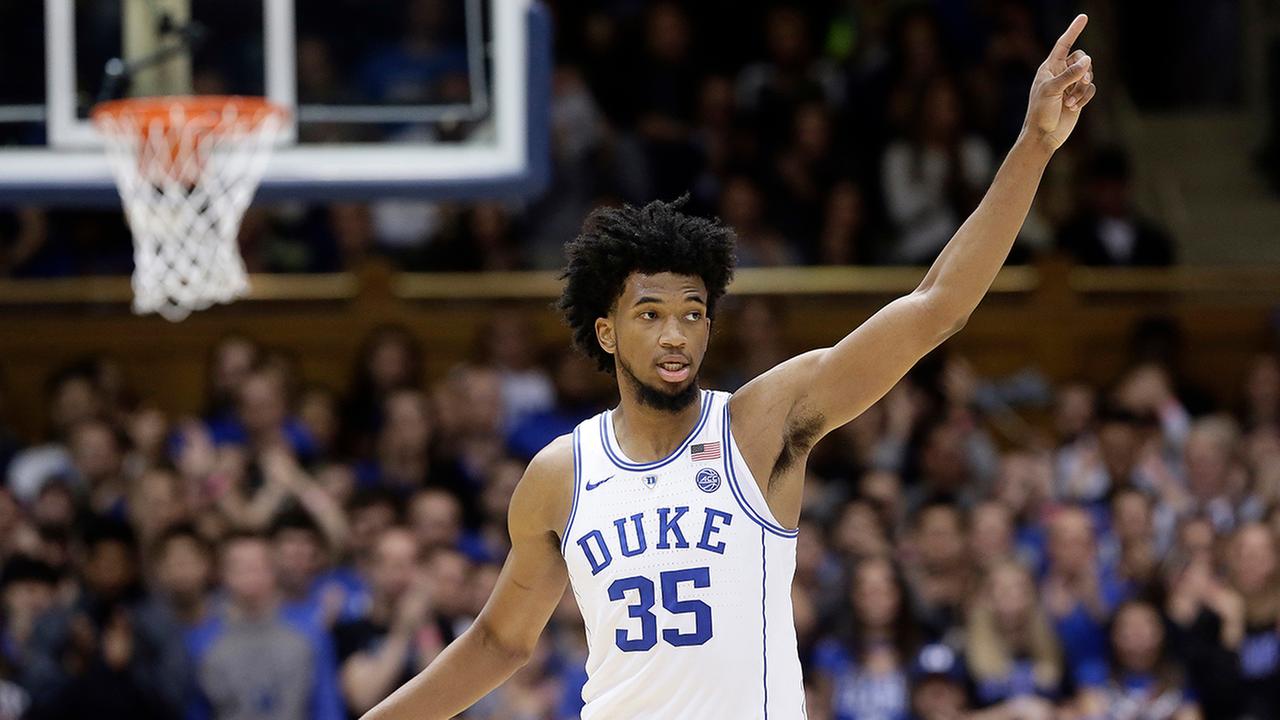 The Chicago Bulls are doing a great job of getting their future young core together. They traded Jimmy Butler to the Timberwolves on draft night last season for Zach Lavine, Kris Dunn, and Lauri Markkanen.
The Bulls are all set at the guard spots so they don't need Doncic and they could use another young bigman. Bagley is almost 7 feet tall, extremely athletic and skilled with the basketball. Bagley has made it look easy so far this year at Duke. He is averaging 21 points and 11 rebounds all while shooting 61% from the field. Bagley is a decent shooter as well and will only get better with time.
NBA Comparision: Chris Bosh but stronger.
2. Atlanta Hawks- Luka Doncic, SG, Slovenia
Luka Doncic wouldn't be getting drafted this high if it wasn't for guys like Kristaps Porzingis and Lauri Markkanen who proved the 'overseas bust' theory wrong. Doncic is the Shohei Ohtani of basketball.
The Slovenian 18 year old, known as "wonder boy" has proven he is the real deal playing overseas. This kid can literally do it all and it is incredible to watch him play. He has been balling out in Spain where he averages about 18 points, six boards and five assists. He is not an insane athlete like some of the other guys in the draft, but has a very high basketball IQ.
NBA Comparison(s): Manu Ginobli, Danilo Gallinari
3. Dallas Mavericks- DeAndre Ayton, C, Arizona
DeAndre Ayton truly is just an absolute beast. He is so strong, tall and athletic. The high flying center will have his fair share of highlights and posters. He is not the best defender, but that can improve. The kid has a lot to work with and has star potential, just look at him. He actually makes a case to be taken over a guy like Bagley. He is built like a star.
NBA Comparison: David Robinson
4. Phoenix Suns- Collin Sexton, PG, Alabama
Collin Sexton is the best point guard in this year's draft class by far. It's ironic, because the player that Collin Sexton is most similar to is Eric Bledsoe and if you look at the teams in the draft that will have a high draft pick, all of them are set at the point guard position except the Suns.
So I'll say it right now, unless Sexton gets injured or decides to stay another year in college, Sexton will be a Sun next season. Sexton is 6'2 with a 6'6 wingspan. He is very quick and athletic. Sexton is a natural scorer but needs to improve as a point guard though. The kid almost won a game with only three players… he's the real deal.
NBA Comparison: Eric Bledsoe
5. Sacramento Kings-Kevin Knox, SF/PF, Kentucky
Kevin Knox isn't a very flashy player. He has a lot to work with because he can do a little bit of everything. He would be a perfect fit on the Kings. They have their future backcourt all set and now the Kings need another piece.
He is 6'9 with a 7'0 wingspan and he is very long but has a lot of strength. He is an underrated player in this years draft even though he will be selected in the lottery.The kid is a very well-rounded player who can do a bit of everything.
NBA Comparison- Marcus Morris but with a KD, Giannis body type.
6. Cleveland Cavaliers(From Brooklyn)- Mohamed Bamba, C, Texas
The Cavaliers announced they will not make this trade not knowing if LeBron will commit to the Cavs long term. Having a top prospect in the mix might not work out for the team or the young player. But skill-wise, Bamba is an absolute monster. He is 7'0 with a 7'9 wingspan. There really aren't many negatives to his game.
7. Los Angeles Clippers-Robert Williams III, PF/C, Texas A&M
Williams would've gone in the lottery last year, but he decided to wait another year. The Clippers are starting to plan for the future and might part ways with Blake Griffin and DeAndre Jordan. He is a bit undersized a 6'9 but has a 7'6 wingspan. Williams has a HUGE upside. One of his weaknesses is that he can be a bit too unselfish, but that's something you want in a player.
NBA Comparison: Has drawn comparisons to former no. 2 pick, Antonio McDyess
8. Philadelphia 76ers(From Lakers)- Hamidou Diallo, SG, Kentucky
This might come as a shock to some of you reading this. Diallo is one of the most underrated players in the draft. He is extremely athletic and would fit in well with a Sixers team that needs a young shooting guard. Diallo is extremely athletic, but not a great shooter. He has been balling out lately at Kentucky. No, he is not related to Chieck Diallo in case you were wondering.
NBA Comparison: Vince Carter with a Malik Monk build.
9. Charlotte Hornets- Jaren Jackson Jr., PF/C, Michigan State
The Hornets should go into complete rebuild mode. Jackson would be a good place to start. At 6'10, 240 lbs Jackson has dominated at Michigan State this season. He hasn't put up the best numbers, but he has a ton of potential and Don't be surprised to see Jackson stay in college for another year either.
NBA Comparison: Shareef Abdur-Rahim
10. Orlando Magic-Lonnie Walker IV, SG, Miami
The Magic haven't been good since the Dwight Howard era which has given them a plethora of lottery picks in recent seasons. They have an excessive amount of young players, but they just can't get it together. Walker would be a good fit on the Magic who are in need of a young shooting guard. He is a decent outside shooter who has a lot to work with, but he could use a haircut though.
NBA Comparison: Jimmy Butler
11. Memphis Grizzlies- Brendan McCoy, C, UNLV
You might not have heard of him yet, but get used to it. Brendan McCoy is another underrated player in this years draft class. He is averaging 22 and 11 this season and he went off for 33 and 10 against the top center in the country. He'd be a good fit for the Grizzlies who are likely to start rebuilding and trade Marc Gasol.
NBA Comparison: Demarcus Cousins
12. Utah Jazz- Trae Young, PG, Oklahoma
Trae young is the best scorer in this years draft hands-down. He is so skilled offensively and his game will translate to the NBA, but for some reason people question that. Players in past years who were 'college stars' and were known for their scoring got drafted low. Examples from last year are Josh Hart and Frank Mason and they have been getting minutes and playing well this season, but they got drafted later than expected. Young would be an exceptional fit on the Jazz who need their future point guard desperately. Hopefully NBA teams don't mess this one up.
NBA Comparison: Stephen Curry
13. New York Knicks-Miles Bridges, SF/PF, Michigan State
The Knicks are all set with young talent at all positions except the small forward spot. Bridges also said that he would love to play for the Knicks. He would've been a lottery pick if he declared for the draft last year, and he will be a lottey pick this year too. He got hurt last season and wanted to prove what he can do. Bridges is a great all-around player.
NBA Comparison: Jerome Kersey
14. Phoenix Suns(From Miami)-Wendell Carter, PF/C, Duke
15. New Orleans Pelicans- Trevon Duval, PG, Duke
16- Detroit Pistons-Mikal Bridges, SF, Villanova
17. Portland Trail Blazers- Chimieze Metu, PF/C, USC
18. Denver Nuggets- Troy Brown, SG, Oregon
19. Indiana Pacers- Bruce Brown, SG, Maimi
20. Philadelphia 76ers- Gary Trent Jr., SG, Duke
21. Washington Wizards- Kris Wilkes, SF, UCLA
22. Oklahoma City Thunder- Mitchell Robinson, C, IMG Acadamey
23. Milwaukee Bucks- Jarred Vanderbilt, SF, Kentucky
24. Atlanta Hawks(From T-Wolves)- Justin Jackson, SF, Maryland
25. Toronto Raptors- Dzanan Musa, SF, Bosnia & Herzegovina
26. San Antonio Spurs- Jalen Brunson, PG, Villanova
27. Cleveland Cavaliers-Rodions Kurucs, SF, Latvia
28. Boston Celtics- Grayson Allen, SG, Duke
29. Atlanta Hawks(From Rockets)- Shake Milton, SG, SMU
30. Golden State Warriors- Austin Wiley, C, Auburn
Ethan Carter, @theleaguesource