You obviously have heard a lot of buzz about NBA rookies such as Kyle Kuzma, Donovan Mitchell, Dennis Smith Jr. and of course Lonzo Ball. But the one rookie that you don't hear a whole lot about is Frank Ntilikina. The Knicks received a lot hate when they drafted the young French guard over guys like DSJ or Mitchell. But the young Knick has more potential than you think.
Frank Ntilikina is listed at 6'5 and has a 7'1 wingspan. That is the longest wingspan of a point guard in the NBA. His size and long arms have caused trouble for opposing defenders throughout the season. He hasn't put up the best stats, but he has had a great impact on the team.
High Praise
After the Knicks beat the Boston Celtics last night, Kyrie Irving talked about the rookie.
"He's a good on-ball defender, long,'' Irving said. "For a young player, he doesn't back down. I'm looking forward to playing against him again."
Coach Jeff Hornacek has been playing Ntilikina in the 4th quarter this season, and Frank has produced.
"He doesn't shy away from the pressure,'' Knicks coach Jeff Hornacek said. "He has the mentality of a great basketball player.''
That is one of the most impressive things about Ntilikina; he doesn't get intimidated by much. The 19 year old doesn't seem scared of the spotlight of Madison Square Garden. In his young playing career, he already has beef with the best player in the league.
Ntilikina has recieved high praise from veteran teammate Jarrett Jack.
"Man, he's willing to listen. It's the rigors, the bumps and bruises of the league, the ups and downs of it that he's learning," Jack said. "You might have a great game, you might have a subpar game, you might not play so well, your minutes might be high, might be low. That's the NBA."

"And that's what getting a grasp is on this thing. That's what I try to help him with. The basketball part, he knows how to play. He wouldn't have gotten here if he didn't. It's just accepting the challenges every day. This is a 'What did you do for me' league."
LeBron James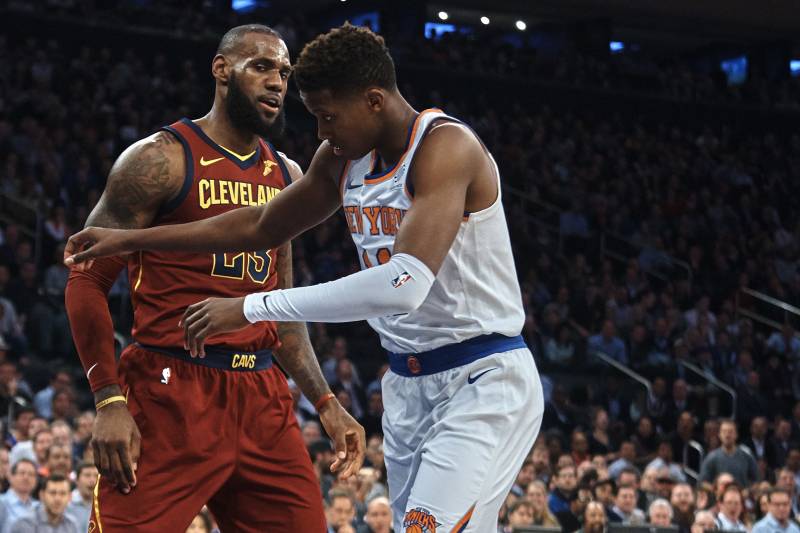 That is one of the most impressive things about Ntilikina, he doesn't get intimidated by much. The 19 year old doesn't seem scared of the spotlight of Madison Square Garden. In his young playing career he already has beef with the best player in the league.
In case you weren living under a rock, Frank Ntilikina and Enes Kanter got into a scuffle with LeBron James in November. Seemed LeBron didn't believe the Knicks made the best move with the young rookie. James said that the Knicks should've taken Dennis Smith Jr. over Ntilikina.
The thing is LeBron, obviously Smith is the more polished offensive player as of right now, but he would not have been a good fit with the Knicks. Smith can be a ball hog, he takes a lot of shots. Also, he has been injury prone and doesn't seem to be the smartest basketball player.
Ntilikina on the other hand has an extremely high basketball IQ and is an excellent passer. Frank can almost be too unselfish at times. If you watch the games you will see Hornacek occasionally screaming at Ntilikina to shoot the ball. A good way to put this is if you were starting a team, would you rather have a player who is too unselfish and opts to pass and try to find open teammates, or a player who is too selfish and doesn't know when to pass.
Smith is the kind of player who is going to have an excellent individual career, like a Russell Westbrook. You surround Westbrook with two all-stars, but they have been struggling so far. Ntilikina is the kind of player who makes everyone around him better. A future duo of Ntilikina and Porzingis should have Knicks fans very excited.
Clutch Moments
Throughout the season Frank Ntilikina has proven that he can step up when it really matters. Last night he shut down Kyrie Irving at the end of the game multiple times and he shut down Lonzo Ball when the two faced off last week. He has turned many games around for the Knicks and helped them come back from large leads.
One of Ntilikina's weaknesses before the draft was that he couldn't shoot. He has proved that wrong as well. Frank has proven he has a feathery touch even though it is a bit inconsistent. There were a few times where he pulled up from way downtown and hit the shot.
Weaknesses
Every rookie in the NBA has weaknesses. Frank Ntilikina is far from the player he is going to become, but he showing glimpses of what he can do. Frank has turned the ball over a good amount this season. He makes a stupid pass every now and then. But that's really it.
Some ways Ntilikina can improve his game is to be more aggressive. He is always looking to pass even when there is a wide open lane to the basket. He is excellent at changing speeds and he is normally much bigger than his defender. So if he can learn to use his size and length, he will be a nightmare for defenders.
I know that this is a bit early to be comparing him to this player, he isn't even close yet, but a player that Ntilikina reminds me of a bit is Giannis Antetokounmpo. Both oversized, long and quick. Just listening to an interview of a young Giannis reminds me of Frank.
Ntilikina has a long ways to go, but don't sleep on him. Don't be surprised to see Ntilikina taking the league by storm in the future.
Ethan Carter, @theleaguesource