Bright Future
Coming to no surprise, The Sacramento Kings are one of the worst teams in the NBA this season. With no luck landing a free agent in the summer, they ultimately are looking to get younger, all part of this "mid-rebuild" strategy.
The first of many changes came last year at the All-Star break. The Kings decided it was finally time to ship away their superstar center. This deal sent Demarcus Cousins to New Orleans for Buddy Hield, Tyreke Evans, Langston Galloway, a 2017 first rounder and a 2017 second rounder. This trade was a step in the right direction.
Then, it was the draft. The Kings came out of the 2017 NBA Draft with rookies De'Aaron Fox, Justin Jackson, Harry Giles, and Frank Mason. They had the best night by far. Everyone in Sacramento was excited, anticipating the start of the new season.
Questional Moves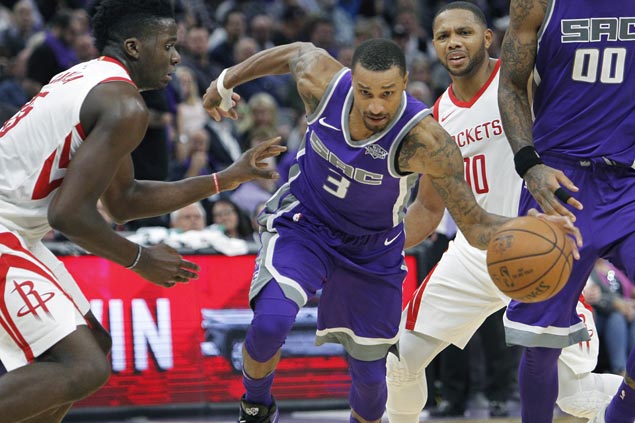 However, this offseason the Kings signed veteran guard George Hill to a 3yr/$57M contract. This signing just made no sense, and they are starting to face the sound of the music now. From the beginning, Fox should have gotten the Lonzo treatment and given the minutes to grow.
They imagined Hill would be a good mentor and leader to this young team. A 3-year deal though? Way too much. This means that they are locked up with an injury prone point guard starting over the future of their franchise.
They also signed Zach Randolph to a 2yr/$24M contract. This effort to have veterans alongside rookies can have its pros and cons. The Kings have a ton of young bigs who will need time to develop as well (Z-Bo was arrested this offseason for possession of marijuana which doesn't his case).
Young Guards
The Kings have arguably the best young core in the league. They have De'Aaron Fox. Fox has drawn strong comparisons to John Wall. Fox has exceptional speed and athleticism. Let me repeat that he has speed. Nonetheless, he might be the fastest player in the league. He has an elite ability to finish at the rim.
Also, Fox proved he could shut down some of the best guards in college last year. Even in the NBA, nothing short of what we expected. Fox is fast. Fox is ready to take the keys of this franchise. One thing he lacks is he isn't a great shooter, but he is improving every single game.
The other half of the Kings backcourt is guard Buddy Hield. He was a part of the trade for Cousins after being shipped from New Orleans to Sacramento. The Kings made it visible that they had great interest in Hield. Buddy needs work, but an outstanding scorer and dangerous three-point shooter. Nonetheless, Fox and Hiled should complement each other very well.
Don't be surprised if they are one of the best backcourts in just a few short years.
Young Bigmen
The Kings have some underrated, talented bigmen. They have an abundance of youth with Willy Cauley-Stein, Skal Labissiere, Harry Giles and Georgios Papagiannis.
Willy Cauley-Stein took the starting spot at center after Cousins was traded last year and had a few games where he proved what he is capable of doing. He started this season with a great game posting 21 points, 10 rebounds and 3 blocks. I'm predicting a great season and eventually a great career.
Guys like Labissiere and Giles were highly ranked coming out of high school. Labissiere was ranked the 2nd best high school basketball player on ESPN's top 100 for 2015. Giles was ranked the number 1 high school prospect in 2016. However, it was shocking to see them both drop in their draft stocks.
If these guys were ranked this high, whats there to say they can not live up to the expectations they once had for themselves.
Other Young Kings
But wait, the talent doesn't end there. Justin Jackson, Bogdan Bogdonovic, Frank Mason and Malachi Richardson. Justin Jackson is coming off of a championship season at UNC. Jackson is just a great all-around player, which we witnessed in his college days. Also, he is a bit older than the other rooks (22), which gives him a bit more of a leadership role on the squad.
Another young talent that goes unnoticed is Bogdan Bogdanovic from Serbia. You might know Bogdan's brother Boban Bogdanovic on the Indiana Pacers. Bogdan might be the best of the two. He balled out playing for Serbia at the 2017 EuroBasket.
Lastly, Mason and Richardson were both players who had fantastic college careers. People weren't convinced that it would translate to the NBA. Richardson was taken with the 22nd overall pick in the 2016 draft out of Syracuse.
Frank Mason won the John Wooden Award for Most Outstanding Player in college last season. You can not overlook that. A very dynamic scorer with a high IQ for the game. Surprisingly, he slipped to the 34th pick in the draft. After the performance I saw him put up at the tournament, I was shook to see him get slept on.
The Kings are probably going to end this season with a high pick in next year's draft. Luckily, right before the rules for tanking change. With their abundance of guards and centers, they will be on the lookout for some solid small forwards *cough* Michael Porter Jr *cough*.