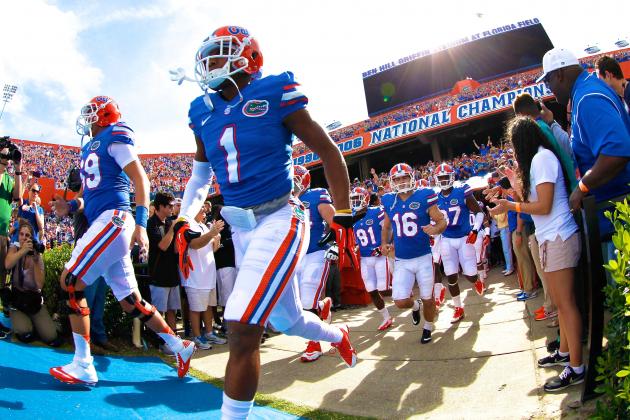 Saturday night, the University of Florida Gators looked to make a triumphant return to college football relevancy, and they did in a masterful manner. Their upset of the third-ranked team in the nation (the Ole Miss Rebels) was enough to catapult them from 25th to 11th in the polls.
The Gators, who won five games total last year, are currently 5-0 and sit atop the SEC East, but what is it that's led to their success?
Of course their defense has been good, but that's nothing new in the swamp; Gator defenses have now become somewhat of their trademark over the years and it's more than made up for their offensive nightmares. The secret to this year's success has been at the most important position on the field: quarterback.
Enter Will Grier, a 6'2″ 201 pound quarterback out of Davidson, North Carolina.
Grier won the starting job over sophomore Treon Harris, but he's really made the decision look brilliant on the coaching staff's part. Grier had a slow start statistically, with three games in a row in which he failed to pass for 200 yards or more against New Mexico State, Eastern Carolina and Kentucky. Then in a divisional game against the Tennessee Volunteers, the young gun had his coming-out party. Grier showed up big when his team needed him most, as he tossed for two touchdowns in the last five minutes, including a 63-yarder that ultimately was the game-winner in a 28-27 thriller. The following week, Grier tossed for for more touchdowns and no picks in a 38-10 humbling of the third-ranked Mississippi Rebels.
Grier has thrown for 967 yards and 10 touchdowns versus only three picks this season. He isn't a guy that's going to wow you with a cannon for an arm or sensational athleticism like the aforementioned Tebow, but he has poise and confidence that's not too far off from what Number 15 displayed in his Gator days.
Of course, it always helps to have guys to throw to, and the Gators have a ton of weapons at wideout. Among them are third-team All-SEC receiver Demarcus Robinson, the veteran of the group, and also two freshman playmakers in Brandon Powell and Antonio Callaway, who was the hero on the other end of that 63-yard score against the Vols.
Of course, the Gators have a ferocious defense like they always to. This year's squad is led by a secondary that features the best defensive back in the nation in Vernon Hargreaves III, who was voted a preseason All-American and is sure to draw the assignment of covering the opponents' best receiver each week, and a young player opposite of him in Jalen Tabor who looks to have a very bright future ahead of him.
Make no mistake about it; the Florida Gators are putting the entire SEC and the rest of the country on notice and are not a team to be ignored by any means. They have sprung onto the scene and will not go down without a fight. Their upcoming schedule is a gauntlet, but they have the talent to stay afloat, and as long as their quarterback continues to ascend in his play, the Gators will continue to ascend up the polls.
Devon Ashby
NFL/NCAAF Analyst, Spark Sports