This week is the first week in college football in which the College Football Playoff Committee will start releasing playoff rankings. There's still four games remaining in regular season play, it's not too early to make some bold predictions as it pertains to the College Football four-team Playoff. Here (In no particular order) are the four teams I believe will be the top four in the country at the regular season's conclusion.
Clemson Tigers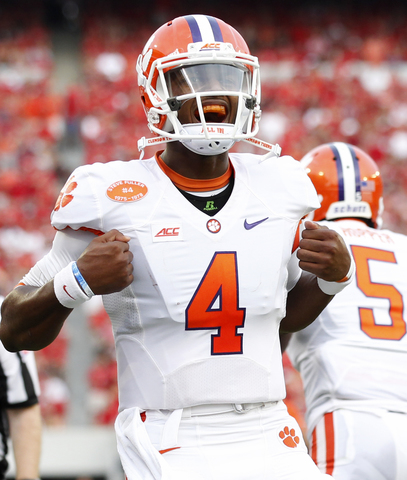 Every year, Clemson always seems like they're a win away from being a national title contender, but they always have a letdown performance in a crucial game that eradicates all title hopes. This phenomenon has notoriously become known in many circles as "Clemsoning,"  and the term can even be found in the Urban Dictionary. This year, the Tigers don't look as if they will fall victim to Clemsoning, and they are so confident in themselves that Clemson's head coach Dabo Sweeney went off on a reporter that brought the infamous term up after his team put a beating on Georgia Tech in October.
Make no mistake; this year's version of the Clemson Tigers are for real. They are as talented a team as any Clemson squad in recent memory and ought to be taken seriously. On offense they are led by a dynamic quarterback in sophomore Deshawn Watson, who's played at a very high level since coming back from an ACL injury a season ago. Watson hasn't passed for a ton of yards so far, but he has thrown 20 touchdowns as opposed to just seven interceptions, and Clemson is still scoring 40 points per game, good for 12th in the country. However, the Clemson offense, Watson included, is an offense that is the most lethal when they establish the ground game, and they are among the nation's best t doing so. Leading rusher Wayne Gallman has over 870 rushing yards and has scored seven touchdowns, and Watson the runner is arguably more dangerous than Watson the passer. While these two have carried most of the load, Clemson backs have combined to score 19 rushing touchdowns and college football's 19th ranked rushing attack with 218 yards per game.
On defense, this is somewhat of an underrated bunch. Their defensive line is big and stout, led by the disruptive force Shaq Lawson. Standing at 6 feet, three inches tall and weighing 275 pounds, Lawson is an unbelievable athlete for his size and is one of the many beasts along the defensive line. He has had an excellent junior season in which he's recorded 6.5 sacks and is probably primed to be a hot commodity in April at the NFL Draft should he declare. Behind him at linebacker is the physical force Ben Boulware, who's all business when he meets you in the hole. The junior linebacker has had himself an excellent season in which he has 48 tackles and an interception. These two are key contributors and play a big part on a defense that's holding its opponents to 17.6 points per game, which is tied for 19th best in America.
Clemson has a big test coming up Nov. 7 at home against their ACC nemesis the Florida State Seminoles, who have consistently been a big nuisance the last couple of years. Outside of that matchup, their remaining games are against Wake Forest, Syracuse and South Carolina. If the Tigers can take care of this remaining schedule, and avoid "Clemsoning," look to see them playing in the College Football Playoffs come New Year's Day.
TCU Horned Frogs
Somehow, the Horned Frogs managed to slip out of the top four even though they have yet to lose a game this season; they dropped from third in the polls to fifth a few weeks ago. It may have been a result of all the close shootouts they've been involved in, like their near-loss to unranked Texas Tech on the road or their comeback against Kansas State on the road, but whatever way you look at it, this team is undefeated.
At this point everyone is very much aware of the capabilities of this Horned Frogs offense led by Heisman hopeful quarterback Trevone Boykin. Boykin has been on a mission ever since TCU was unjustly left out of the playoffs a season ago in favor of the Ohio State Buckeyes, and week after week he's continued to be unstoppable. Boykin is completing 66.7 percent of his passes and has passed for 2,927 yards and 28 touchdowns. Under Boykin's lead, the Horned Frogs are putting up videogame-like numbers; they are currently the fourth-highest passing offense in the land and only their Big-12 rivals Baylor score more points.
Boykin's favorite target is unquestionably Josh Doctson. The 6'3″ 195-pound senior is one of the best receivers in the nation and has shouldered a tremendous load of production. Of all the receivers on TCU's depth chart, Doctson has almost four times as many catches and touchdowns as the second-leading receiver and he has over 800 more yards. Despite all that, he continues to get open week after week and defenses never seem to have an answer for him.
Lost in all the flashy passing stats is the Horned Frog's excellent rushing attack. TCU is actually a top 15 rushing attack as well with 226.9 yards a game, so it's not just an Air-raid type of offense. Boykin is another one of those dangerous duel-threats at quarterback that can hurt defenses with his legs; he's TCU's second leading rusher with 524 yards and six touchdowns on 88 carries (The leading rusher is Aaron Green who has 699 yards and eight touchdowns on 125 carries). This offense is deadly and can play with anyone in the country.
All this being said, TCU's got one major flaw: defense. TCU was once upon a time known for their defense, but aside from games against Texas and West Virginia, the defense has been shredded on a routine basis. They are giving up 388.6 yards a game and they're a mediocre 53rd in the nation in terms of points allowed (24.5 points given up a game). They have an offense that can go blow for blow with anyone in the nation, but they won't be playing Texas Tech and Kansas in the playoffs. They have to get their defense together or things could get ugly down the road. If you combine this with the fact that the Horned Frogs have games against Oklahoma and Baylor in the season's final two weeks, it's an understatement that this defensive situation needs to change.
LSU Tigers
LSU is on this list for one reason and one reason only: Leonard Fournette. He might only be a sophomore, but Fournette is clearly the best player in the nation. For a 6 foot 3 inch 203-pound man, he is unbelievably fast (He runs a 4.5 40-yard dash) but he is built like a fire hydrant and is incredibly hard to tackle, and there are many defensive players who've learned that the hard way.
The remaining schedule for the Tigers is actually pretty brutal, with road games at Alabama and Ole Miss and games at home against Arkansas and Texas A&M, but as long as they have Leonard Fournette healthy and playing at an elite level as he has, and as long as their defense continues to play relatively well like it has, this LSU team can beat anyone and everyone that gets in their way.
Michigan State Spartans
This one might be a little shocking, but it has a lot to do with Sparty's matchup against the Ohio State Buckeyes in three weeks. In other words, the Spartans will beat Ohio State and avenge last year's blowout loss, which will in all likelihood elevate them into the top four. Besides that big game against OSU, Sparty's remaining games are against struggling squads Nebraska and Maryland and the non-threatening Penn State. Then, combine all this with the fact that they overcame the biggest test of the season, albeit in miracle fashion, when they came out of Ann Arbor, Michigan with a win against the Wolverines, but it's more there's even more.
Michigan State has a ton of veteran experience and those veterans are ready to take this team to the promised land. Among those veterans is the senior quarterback Connor Cook. He isn't putting up outrageous numbers like Trevone Boykin, among other quarterbacks. However, what he does have that rivals the rest is a high football IQ. This guy rarely makes bad decisions and his numbers are proof: 2,070 yards, 17 touchdowns, and just two interceptions.
On defense they are led by another senior, Shilique Calhoun. The senior defensive end is 6'5″ and 250 pounds, and he is virtually unblockable. He's recorded eight sacks on the season and is definitely a guy that NFL scouts are watching and talking about as well.
These are two guys who've been around the block, and they know that this is their time. They will continue to do their parts on their respective sides of the ball to make sure their team is in the playoff bracket come January.
Devon Ashby
NFL/NCAAF Football Analyst