Deshaun Watson is special, and although he finished last in Heisman voting in 2015, it is undoubtedly clear that he will enter the 2016 season with the distinction of being not just the best quarterback, but the best player. It is hard to assume differently after his performance in the National Title.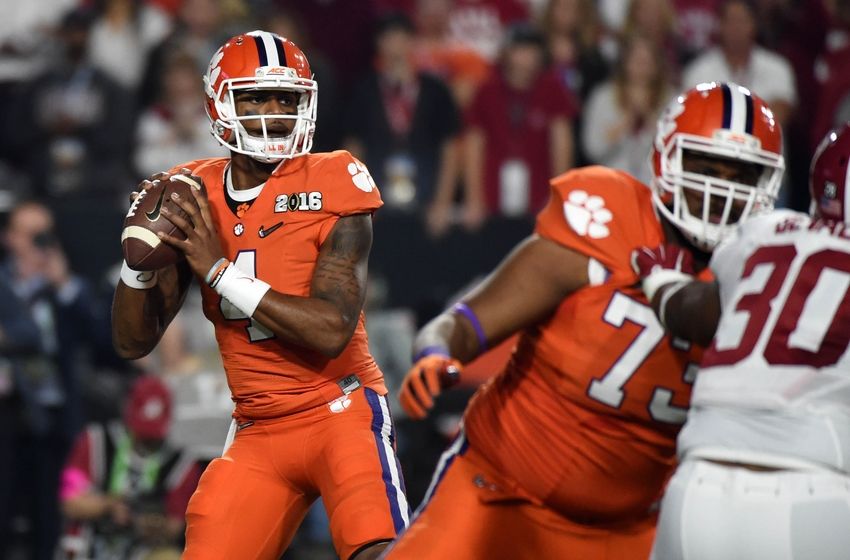 Credit: Fansided
In a game that drew strikingly similar comparisons to the 2006 Rose Bowl between the Texas Longhorns and Southern California Trojans (Which is widely considered the greatest game ever played), Watson had himself a performance that was not far from what quarterback Vince Young had for Texas. Watson passed for 405 yards and four touchdowns and while his rushing stats didn't blow anyone away just by looking on paper (20 carries for 73 yards), he still kept the Alabama D on its toes.
Watson had the same effect on Alabama that the former Longhorns great Young had on USC; he was too quick and too fast for anyone on the field. He was like a magician with the way he would maneuver and get away even at times when the usually stout defensive line had him in their grasp, and no matter what defensive coordinator Kirby Smart drew up to try to limit his effectiveness (and let's remember that Smart is a brilliant defensive mind and arguably the best there is in college football today),  Watson was always a step ahead. He forced the Tide out of their comfort zone when head coach Nick Saban, in the fourth quarter of a tie ball game, called for an onside kick and essentially put the game on the shoulders of his offense instead of his defense.
That speaks volumes to the kind of impact Watson had, and although he came up just short in what was a 45-40 thriller, that's probably the first time we've ever seen anyone truly put Alabama in a corner in that way.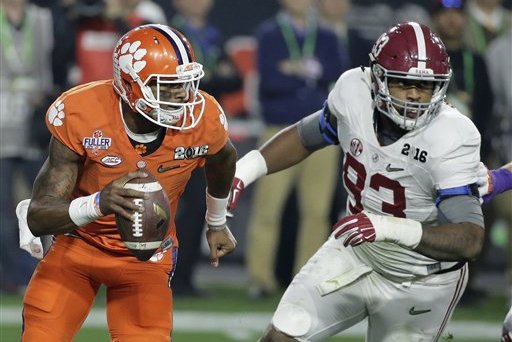 Credit: BleacherReport
But Watson was not alone on this night; as we mentioned he threw for over 400 yards and four touchdowns; he had a lot of help, and much of it starts with play-calling. His coach Dabo Swinney did a beautiful job of designing plays to roll him out of the pocket and away from Bama's destructive pass-rushers, and guys like Charone Peak, tailback Wayne Gallman and even receiver Hunter Renthrow came through and made outstanding contributions in the passing game, especially Renthrow, a walk-on who had two big touchdown catches, and Peak, a back-up filling in for suspended receiver Deon Cain, led all Tigers receivers with 99 yards. Guys came out of nowhere and stepped up in roles they may not have been used to, and it nearly paid off in a wonderful fashion.
Credit: l.yimg.com
The one side of the football that could be a concern for Clemson would be defensively; Clemson has a ton of guys that started in the championship game that either have already declared for the draft or could potentially do so. They've already lost a combined 25 or so sacks in defensive ends Kevin Dodd and Shaq Lawson, and defensive back Jayron Kearse recently declared as well, and All-American corner Mackensie Alexander still has yet to declare what he's going to do. But the Tigers have been here before; they lost eight guys to the 2015 draft and then reloaded and ended u in the title game, and they do have talent in place like Austin Bryant, a defensive end who is sure to replace Lawson as the starter next year on one side of the defensive line, and they also have some guys like Ben Boulware who will provide veteran leadership and keep the level of play very high on that side of the ball.
Credit: CBS Sports
The most important thing about this is besides Watson coming back, the Tigers have Dabo Swinney as their head coach. He has been the unspoken catalyst of this football team with the job that he did this year. He kept his players well-prepared and together, and no moment ever seemed too big or spotlight too bright. Without a doubt we know that Swinney will have these guys ready to go next season, as if losing the title game wasn't motivation enough. As long as Dabo Swinney is coaching and Deshaun Watson is running the show at quarterback, and if the defense can stay at a level of play like they had this year, these Clemson Tigers will be raising that shiny gold trophy in 2016.
Devon Ashby
Spark Sports Analyst