Anterior Cruciate Ligament, otherwise known as ACL, tears have been a major injury in the NFL over the past few years. Since 2013, even with decreasing totals over the past two years, there have been 132 torn ACLs in the NFL. However, the most torn ACLs normally occur during the preseason. This year alone, 25 players suffered a torn ACL before the season even started. Here is a list of all the players: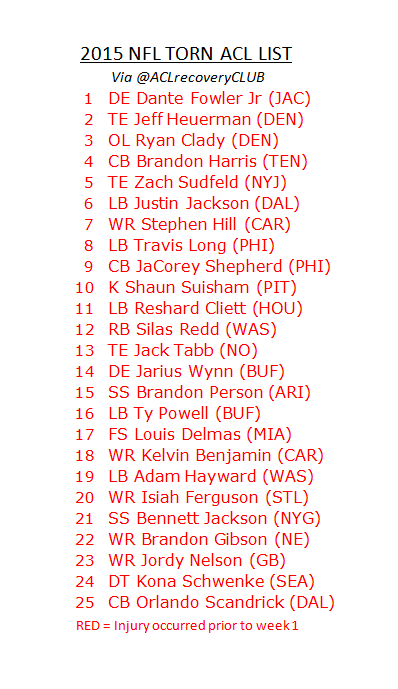 Every preseason there are key players that go down with this injury. This year the key players were WR Kelvin Benjamin, WR Jordy Nelson, OL Ryan Clady, and CB Orlando Scandrick.\
During the regular season, torn ACLs totals have decreased (2013 – 32; 2014 – 22) and are on pace to decrease even further this year. However there are still key players that go down during the season with this injury. There have been eight players with torn ACLs after week 3. Here is a list of the players by week:
Week 1 None
Week 2 None
Week 3 Chiefs CB Philip Gaines
Week 4 Cowboys RB Lance Dunbar
Week 5 Cardinals LB Kenny Demens, Ravens DB Will Davis, Bills RB Cierre Wood, Chiefs RB Jamaal Charles
Week 6 Steelers T Kelvin Beachum
Week 7 Buccaneers WR Louis Murphy
As you can see, Week 5 was the worst week with four players and Weeks 1-2 did not have any torn ACLs. There have been a variety of different players at different positions with torn ACLs, but the position you do not see is Quarterback. I believe this mainly because QBs are protected more than anyone in the NFL is.
So noticing there are just as many torn ACLs as concussions I asked myself is there anyway to prevent this injury. This is the million-dollar question. The answer is no. The only preventative maintenance is doing strength and endurance exercises as well as hoping you do not make a move that causes your ACL to tear. There are no braces, drugs, or shots to prevent ACL tears.
As we enter Week 8, I am curious to see if you any players will suffer a torn ACL.
Benjamin Sudderth III
Spark Sports Analyst
Follow me on twitter @bs3sports