The NFL season still has a little ways to go before the playoffs begin, but that will not stop us from making a few predictions about the various hardware that will be handed out in a few months, among them being Most Valuable Player. So who should take what home? Here's a list of the awards and who could take home each.
Comeback Player of the Year: Carson Palmer (Cardinals)
It is incredibly hard to come back from a devastating injury, especially as you get older. Last season, Carson Palmer missed a bunch of games due to injury, including an ACL tear that wound up costing him his season, but in 2015, the thirteen-year veteran has come back and had an unbelievable season. With five games still remaining, Palmer has thrown for over 3,000 yards (He has 3,066 to be exact), he's passed for 27 touchdowns against only nine interceptions, and he currently has an overall quarterback rating of 108.9 for the season.
But more importantly, Palmer has the Arizona Cardinals playing some great football. The team is leading their division and are currently second behind the undefeated Panthers in the NFC playoff picture. Palmer has fought his way back after a devastating injury and has been one of the top players in the league. Barring a major collapse for the remainder of the season or barring another horrific injury, there's no reason he should not easily walk away with this award.
Defensive Rookie of the Year: Marcus Peters (Chiefs)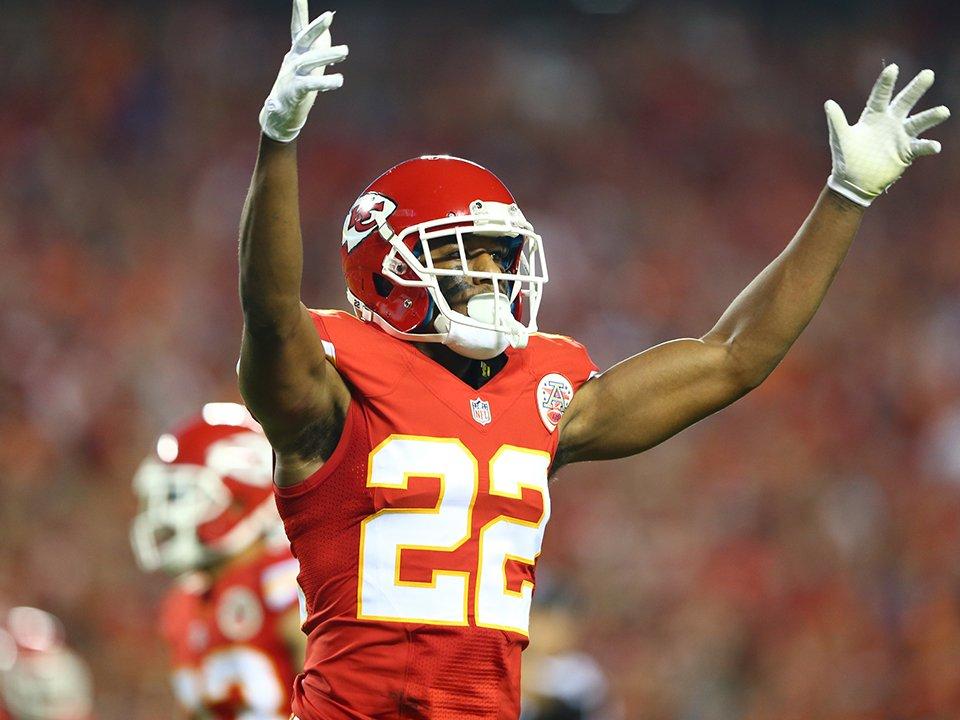 Marcus Peters saw his draft stock drop tremendously after an incident in college in which he fought with his coach and was subsequently kicked out of the program. However, the Chiefs believed enough in him to draft him 18th overall in the 2015 NFL Draft, and what a steal he has been.
The young corner, for all his off-the-field drama, was a tremendous ball player with wonderful coverage and ball-hawking skills, and he has displayed that in the NFL. He is currently among the top rookies in the league with four interceptions, one of which was returned for a 55-yard touchdown.
However, Peters has done more than those four interceptions; he has 14 pass defenses as well. He is a big part of the reason Kansas City is currently allowing just 57.9 percent of passes to be completed against them and have only given up 17 passing touchdowns (1.7 a game). This young player is a complete cornerback and he has all the tools to become an elite cornerback in this league.
Offensive Rookie of the Year: Jameis Winston (Buccaneers)
It is pretty obvious that whenever a player, especially a quarterback, is drafted first overall, with that come some lofty expectations. Jameis Winston is no exception.
It was a rough start to his NFL career; through the first five games the former Seminole was a turnover machine who gave the football away eight times (seven of those were interceptions, which was among the most in football). However, in the last five games Winston's only turned the football over three times and has thrown eight touchdowns and rushed for three. Under Jameis's leadership the Bucs' offense is 12th in scoring and eighth in total yards per game, but this pick is about more than numbers.
Tampa Bay, a team that won just two games in 2014, has not only eclipsed that total, but with a 5-5 record and more specifically a two-game winning streak, they are currently in the hunt for a potential wild card spot in the NFL playoffs. If the Buccaneers play well enough down the stretch and continue their recent run, they could clinch a playoff spot for the first time since 2007. It all comes down to the play of their rookie under center, and it remains to be seen if he is up to the task.
Defensive Player of the Year: Luke Kuechly (Panthers)
This pick is essentially a coin flip between him and his right hand man Thomas Davis, because both have had outstanding seasons and are arguably the best duo of linebackers in the league (and not to mention that the Panthers' defense is loaded with worth candidates including Josh Norman and Kurt Coleman in the secondary)
However, Kuechly gets the edge over them all for several reasons. Among them is the fact that he is the team's leading tackler despite missing three games to injury, and he is currently coming off of one of his best games of the year at Dallas in which he registered seven tackles and intercepted two passes on back to back plays (the first one was taken back for a touchdown).
Astounding still is the fact that the former Defensive Rookie of the Year is currently on pace to be the highest rated linebacker ever by Pro Football Focus. He is the leader of a loaded defense and has the Panthers on a track for Super Bowl 50 should he keep up this level of play.
Offensive Player of the Year: Julio Jones (Falcons)
There have been few wide receivers in football that are flat out unguardable. Julio Jones just might be one of those that is.
In a year that's shown inconsistency from the Atlanta Falcons, Jones has consistently put together outstanding games. Jones has gone over 100 yards receiving in six out of 10 games this season, and he is the NFL's leading receiver with 1,189 yards on 89 catches and accounts for a big chunk of the Falcons' offense.
Julio is clearly the Falcons' best option and everyone that plays against them knows it; to give an idea of how vital he is, the Falcons' next leading receiver is running back Devonta Freeman, with 48 catches and 420 yards receiving. Despite that, Jones continues to get open. For that reason he should come away with Offensive Player of the Year.
Coach of the Year: Ron Rivera (Panthers)
Now many will argue that maybe the Patriots Bill Belichick should be this season's Coach of the Year, but with all due respect to him, the Patriots are good every year. The Panthers are currently 12-0, which is the best start in the franchise's history, and that is due to a wonderful coaching job by the head man, Ron Rivera.
He has built a team in the spitting image of himself: Tough and physical defensively and offensively. In an era where offenses spread you out and throw the ball all over the gridiron, Carolina's stuck with their identity and insited on running the rock down teams' throats, and in a year where there as limited as any team in football at the receiver position it has certainly worked in their favor.
If the Panthers are able to get to the Super Bowl, this could go down as one of the NFL's most brilliant coaching jobs ever.
Most Valuable Player: Tom Brady (Patriots)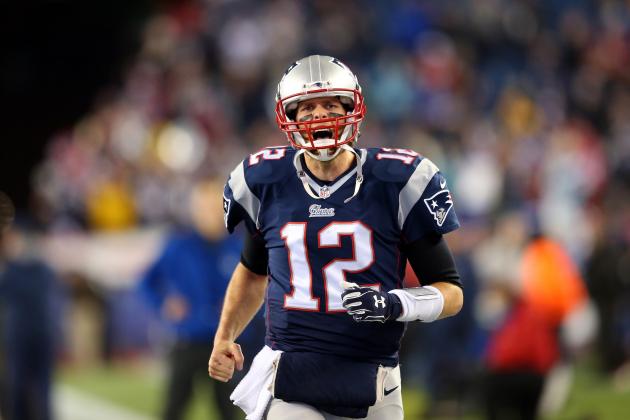 The MVP of the league is the guy who's team simply CANNOT live without him and who's sole presence elevates the play of the other guys. While Cam Newton is playing really good football, there've been a couple of games this season that the Carolina defense has carried that team to victory (most notably on Thanksgiving Day). Tom Brady has been the man in New England.
While this is nothing new, this year carries a lot of weight. We all know the mess of an offseason that Tom Brady went through with the entire "Deflategate" saga. Since winning his appeal of a four-game suspension for his role in the scandal, Brady has played inspired football and has looked like a man possessed. He leads the league in almost every passing category you could think of with 3,320 yards, 25 touchdowns and just four interceptions (He also has a 107.4 quarterback rating).
Brady has the Patriots on the verge of going 16-0 for the second time in his career, but this time around may be the finest job he's done when you take into consideration the growing list of injuries that have plagued this football team, particularly on offense where Brady has lost both his top wideouts Danny Amendola and Julian Edelman, a number of offensive lineman and one of his talented tailbacks Dion Lewis. As much as that is a testament to the coaching job of Bill Belichick, there are few other teams that could stay afloat with that magnitude of talent missing. We will see if Brady can become a part of history and lead the Pats to a perfect record again, but even if he doesn't his play this season has definitely earned him potential MVP honors.
Devon Ashby
NFL/NCAAF Analyst, Spark Sports